Design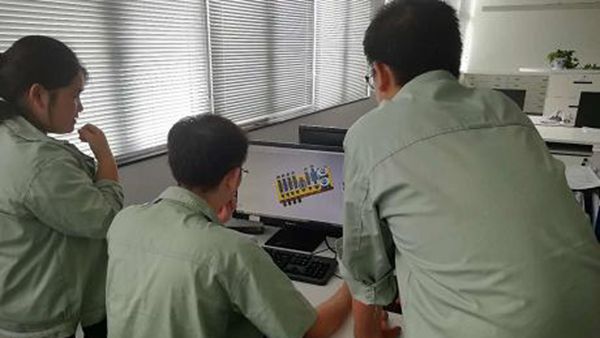 GRH has been awarded as a provincial engineering technology center, new high-tech enterprise and other honorary titles. Our self-developed load-sensitive proportional valve has been set up as national key project and we have established joint research and development teams with several well-known domestic universities to develop new technology applications within fluid dynamic fields. We also introduced international high-end technology talents, experienced designers, developers and manufacturing specialists to develop hydraulic components and system. This team implemented an international advanced R&D concept and manufacturing technology and utilized advanced UG/SOLIDWORK software and finite element method, giving GRH's new products incomparable technical advantages. GRH has paid attention to the importance of electro-hydraulic system integration and has been actively involved in the development of systems that save energy and reduce costs.

Processing

GRH's factory has 50 processing centers and 220 sets of CNC honing machines, CNC gear hobbing machines, CNC external cylindrical grinding machines, German thermal deburring machines, American CNC vertical honing machines, gear-shaving machines, gear honing machines, ultrasonic cleaners, controlled atmosphere carburizing furnaces, German vertical and horizontal processing centers, British cylindricity instruments, three coordinate measure machines, cylindricity instruments, combination-type gear inspection instruments and more, allowing for an annual hydraulic component output of 1.6 million pieces.

Assembly and testing

GRH owns and operates 3 assembly lines and 20 sets of testing benches (including CNC testing benches) to test the flow, pressure, speed, torque, mechanical efficiency, volumetric efficiency, air tightness, noise, and other parameters. The to-be-delivered products are 100% tested. Impulse test, life test, high and low temperature test, high-pressure test and other tests are also available.

Quality assurance

GRH was awarded ISO9001:2000 quality system certification in 2006. Our total quality management system covers all processes such as design and manufacturing. The production process can be controlled: our employees carry out the production strictly following program files and record the process to ensure each product step is controllable and traceable. GRH also uses 5S field management and TPM (total product management) systems to control product quality.

Delivery

GRH has established strict standards and requirements for packaging and delivery. Before delivery, we will discuss packaging in detail with customers, draw up the packaging design, and have the customer confirm it.

Standard packaging process involves the following steps (see packaging standard):

Pump: internal oil control and external cleaning
Put products in the inner plastic bag, seal.
Place in small packaging carton, seal.
Place in external packaging box, 4-product-in-one-box, seal with adhesive tape.
Put the package on the tray and pack.